The Cmaj7 guitar chord is a chord that every beginner guitar player should learn. It is easy to hold and play and sounds fantastic. There are 10 open Cmaj7 chord shapes in this article which will give you a lot of choices when using the chord.
I have another 19 open chords for the Cmaj9, Cmaj13 and Cmaj9/13 chords and I cover the intervals and notes in each chord. Finally, I include how to use the chord and give some song examples that use the Cmaj7 chord.
Cmaj7 chord: chords from the keys of C or G major
The Cmaj7 chord can be built on the 1st scale degree of C major or the 4th scale degree of G major. You can also build a Cmaj7 chord in other scales but chord progressions using major scale chords are the most common.
You can build C Lydian chords in the key of G major (e.g. Cmaj7#11) but both C & G major also build the Cmaj9 and Cmaj13 chords.
The C major 7th chord and extensions
Check my article 51 Fmaj7 Chords for a full breakdown of the intervals and other notes on the major 7th chord and the major 9, 13, & 9/13 extensions, but here are some quick notes:
Maj7 chord: Root, major third, perfect fifth, major seventh = R-M3-P5-M7 = 1-3-5-7. Alternate names are major 7th, M7, Ma7 or an upward-pointing triangle (jazz).
Maj9 chord: Root, major third, perfect fifth, major seventh, major ninth = R-M3-P5-M7-M9 = 1-3-5-7-9
Maj13 chord: Root, major third, perfect fifth, major seventh, major thirteenth = R-M3-P5-M7-M13 = 1-3-5-7-13 = a minor 9 chord on the 13 (e.g. Cmaj13 = Am9).
Maj9/13 chord: Root, major third, perfect fifth, major seventh, major ninth, major thirteenth = R-M3-P5-M7-M9-M13 = 1-3-5-7-9-13 = 6 add9/11 chord on the 5 (e.g. Cmaj9/13 = G6 add9/11).
Replace the 7 with 9 or 13 for the maj9 and maj13 chords for the alternate names for those chords. There are no alternate names for the maj9/13 chord as it's a chord name that I use and haven't seen it anywhere else. A major 7th chord with the 9 and 13 is usually just notated as maj13.
Each chord resolves best to the 5th of the chord, e.g. Cmaj7 > G or can act as a tonic (I) chord.
Open Cmaj7, Cmaj9, Cmaj13, and Cmaj9/13 guitar chords
Here are the notes for each C maj7 guitar chord. Note however that some of the chords can be played without the perfect 5th which I do have examples of.
Cmaj7 chord tones: C-E-G-B
Cmaj9 chord tones: C-E-G-B-D
Cmaj13 chord tones: C-E-G-B-A
Cmaj9/13 chord tones: C-E-G-B-D-A
When it comes to how to use these chords, there are two approaches.
Use them as the tonic chord in C major.
Since they all resolve best to the perfect 5th of the chord (G), then use them to go to a V chord in C major or to the tonic G chord in G major.
Here is a chart of the symbols I use on my chord diagrams: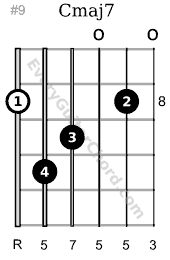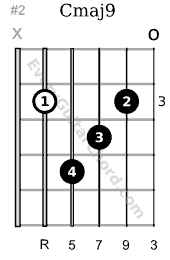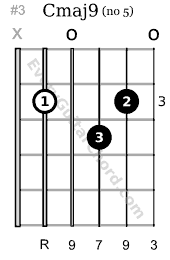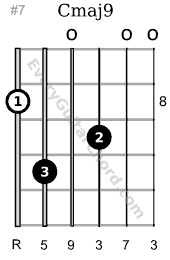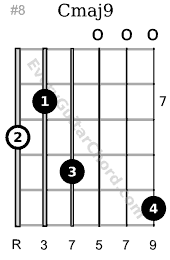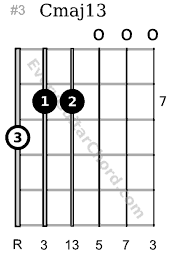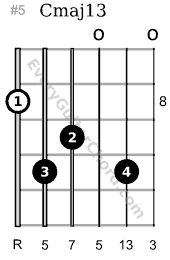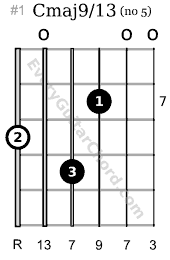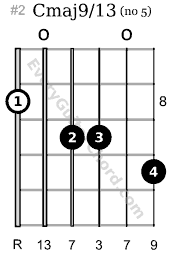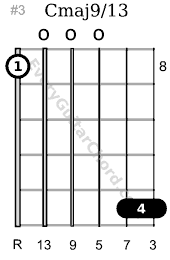 Notes on the chord voicings
Cmaj7 chords: The best voicings are #'s 1, 4, 5, and 7.
Cmaj9 chords: #1 is one of my favorite C chords, although #3 is similar and also sounds great. #'s 6, 7, and 8 are pretty good as well.
Cmaj13 chords: #1 and #3 are nearly identical so choose the one you like best. The same goes for #'s 4, 5, and 6. #7 is interesting because you can keep changing between open strings and fretted notes at the 12th fret. Experiment with that one.
Cmaj9/13 chords: #1 is okay, #2 sounds great, #3 requires a stretch and a double string pinky barre, and #4 sounds the best to me even though you need to use your thumb.
Songs that use a major 7 chord
Here are five songs that specifically use a Cmaj7 chord:
Beatles: We Can Work It Out, Yellow Submarine
John Lennon: Imagine
Simon & Garfunkel: Homeward Bound
The Sundays: Here's Where The Story Ends
The notes and chords from C major are often used as examples in music theory and for song chord progressions because it is the only key that has all the natural notes (no sharps or flats).
For example, most articles and books covering the jazz ii-V-I chord progression will show the following chords from C major as an example: Dm7-G7-Cmaj7.
Final Thoughts
There are some amazing sounding open Cmaj7 chord voicings that will take your playing to the next level. And don't overlook the maj9 and maj13 extensions.
Major 7th chords add a lot of texture to your playing which you should use for highly melodic songs such as ballads and love songs. Also, look at my articles on F Lydian Chords and my Comprehensive List of Chords.