There are 3 C sharp diminished chords that can be built from the D major scale: C#dim, C#m7b5, and C#m11b5. They are all excellent substitutes for A dominant 7th chords. I cover the intervals and notes for each diminished chord and include a few song examples that use a C#dim and C#m7♭5 chords.
C# diminished chord types from D major
Most players are probably familiar with a diminished triad and the half-diminished 7th chords, but the minor 11 flat 5 is probably only known by jazz players. Here are the 3 C# diminished chords from the D major scale:
dim triad intervals: root note, minor 3rd, diminished 5th = R-m3-d5 = 1-♭3-♭5
Alternate symbol: o, for example, C#o
C#dim or C#o = C#-E-G
m7♭5 chord intervals: root note, minor 3rd, diminished 5th, minor 7th = R-m3-d5-m7 = 1-♭3-♭5-♭7
Alternate symbol: ø7, for example, F#ø7
Chord equivalent = m6 on the ♭3
C#m7♭5 or C#ø7 = C#-E-G-B = Em6
m11♭5 chord intervals: root note, minor 3rd, diminished 5th, minor 7th, perfect 4th/11th = R-m3-d5-P4 = 1-♭3-♭5-♭7-11
Chord equivalent = m6 add9 on the ♭3, 7sus ♭9 on the 4th
C#m11♭5 = C#-E-G-B-F# = Em6 add9 = F#7sus ♭9
The strongest tendency for all 3 chords is to the tonic chord D major in whatever form it takes: D, D6. D6 add9, Dmaj7, etc. B minor would follow those chords nicely as well.
15 Open C# diminished guitar chord shapes
I'm really starting to love all diminished chords as they are easier to hold and have a nastier sound to them. All three of these C sharp diminished chords are really just rootless A dominant 7th chords. Check out my article on Dominant 7th Substitutes for insights into these 3 chords.
If you would like to learn the closed chord voicings for all the diminished chord types, then take a look at my Diminished Triad article.
Here is a chord diagram of the symbols I use in my chord blocks:
C sharp diminished triad
I like all of the voicings except for the first one. My favorite one is #3 even though it only has one open string.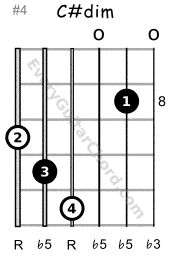 C#m7♭5 open guitar chords
The first voicing is okay but it is too close to the common Em6 chord and #2 is difficult to hold. My preferred voicings are #'s 4, 5 and 7.
C#m11♭5 open guitar chords
Chord #'s 1 and 2 sound identical but you can choose one over the other given where you are playing on the neck. Number 3 is the best one IMO.
Songs that use C sharp diminished chords
Here are some songs that use C# diminished chors:
Beatles: Michelle, Strawberry Fields Forever (C#dim)
Grateful Dead: Cosmic Charlie, France (C#m7♭5)
Check my Diminished Chords article for more song examples that use diminished chords.
Final Thoughts
If you are a blues player then you want to learn as many diminished chords as possible. You would use the various C sharp diminished chords above for the 1 chord in A blues. Check out the Wikipedia page on the diminished triad for more information if you like these types of chords.