The G 7#5#9 is a great chord for any guitar player. It has a sound that is smooth and harsh at the same time and is easy to hold. You definitely want to add this chord to your chord toolbox.
I cover the intervals in the chord, the scales where you can build the chord and the notes in a G7#5#9 chord. There are not a lot of chord shapes for a this augmented seventh chord. I have 4 closed guitar chord shapes and another 2 open shapes for a G7#5#9.
The G7#5#9 (or 7#5#9) chord in detail
The 7#5#9 is not the same as 7#9 chord, the chord a lot of rock guitarists associate with Jimi Hendrix. I love the open E7#9 in Foxey Lady which is actually an E7#9 without the 5th. You can't easily play the 5th in that voicing unless you grab it with your thumb on the low E string.
You may have seen a 7#5 chord before or used it as a V7 chord in a blues tune. Think of the 7#5#9 as a combination of those 2 chords, or a 7#9 without the fifth combined with a 7#5. Here are the chord details:
G7#5#9 Chord tones: G – B – D# – F – A#
Chord intervals: R – M3 – A5 – m7 – A2 = 1 – 3 – #5 -♭7 – #9
Alternate names: 7#5(#9), 7alt, augmented dominant 7th sharp 9, 7aug5 sharp 9
Scales that build a 7#5#9: Melodic minor on the 7th degree, Major Bebop on the 3rd & Dorian Blues on the 2nd. The Dorian Blues scale is the 2nd mode of the Major Bebop scale.
Resolve tendency: G7#5#9 resolves nicely to the keys of G♭ \ F#, A♭, B♭, and C & E major and minor.
To understand how to use a 7#5#9 chord, the chord resolves to the major or minor version of its ♭9, ♭3\#9, 4th, 6th, and major 7th. That is a lot of options!
So use the chord in place of a dominant 7th chord built on the 5th scale degree. You can use it in a song that has a strong major scale feel or as the V7 chord in a blues tune.
Songs that use the 7#9 chord
Only jazz songs use a 7#5#9 chord. But you can look at the 7#5#9 chord as a combination of the 7#5 chord and a 7#9 chord without the 5th.
I have an article on the Whole Tone Scale and in the article, I mention a number of popular songs that use a 7#5 chord. Check that out for those examples.
Here are some popular songs that use a 7#9 chord:
Allman Brothers: In Memory of Elizabeth Reed
Beatles: Get Back, Helter Skelter, Tax Man
Grateful Dead: Till the Morning Comes
Jimi Hendrix: Foxey Lady, Purple Haze, Voodoo Child
Joni Mitchell: Chelsea Morning
Pink Floyd: Breathe
Police/Sting: Murder by Numbers
Stevie Ray Vaughan: Say What!
Steely Dan: Charlemagne
If you want to find a song that uses the 7#5#9 chord, then you'll have to listen to some jazz tunes. Or if you have some jazz sheet music, look for the "7alt" symbol which stands for an altered 7th and is a dominant chord with an altered 5th and \ or an altered 9th.
Check out the Wikipedia page on altered chords. Or even better, check out the Altered Scale article on Matt Warnock 's guitar website.
Closed 7#5#9 and open G7#5#9 guitar chord shapes
I only have 6 chord shapes in total: 4 closed 7#5#9 chords and only 2 open G7#5#9 chords. Kind of weak to call 6 chords a "chord chart" but that is all I could find.
Here is a chord diagram of the symbols I use in my chord blocks:
Notes on the chord voicings:
CLOSED: #1 is THE classic voicing and probably the best one. You can hold #2 without using the thumb but it's even harder. #3 is not bad but #4 is just ehhh.
OPEN: #1 is easier if you fret the F at the fret but it doesn't sound as good as the harder to hold version with the G at the 3rd fret #2 only has 1 open string and it doesn't sound that great. As a matter of fact, the closed voicings sound better than the open ones.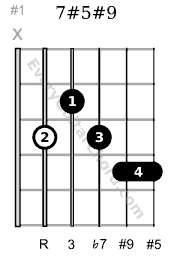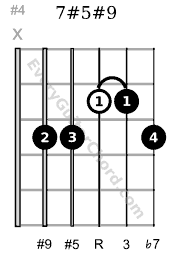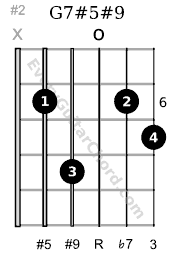 Try moving the closed voicings to V chords in keys you play, Try an E7#5#9 at the 7th for A blues or a B7#5#9 at the 2nd fret for E blues.
Since I have so few guitar chord shapes for the 7#5#9 chord, especially in G, here are 3 G7#5 and 3 G7#9 chord voicings.
G7#5: #1 is difficult to hold but you can opt to not play the G on the low E string to make it much easier to hold. #2 sounds good but #3 is ehhh, okay.
G7#9: I don't like #2 but #'s 1 & 3 sound good.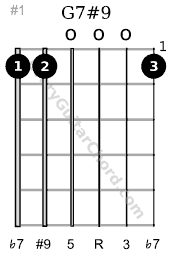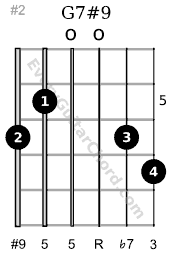 Final Thoughts
If you are a songwriter then this is a nice chord to work into songs. If you are a rock or blues guitar player, substitute a 7#5#9 chord in place of the dom7 chord.
Try it yourself with a G7#5#9 and follow it with a C or Cmaj7 chord. I'm sure jazz players already know this chord.
If you don't like the sound of the 7#5#9 chord, then try substituting it with a 7#5 or 7#9 chord. Have fun getting creative with the chords!